Smart mobility
In an effort to be more sustainable, cities today are looking for ways to get polluting internal combustion engines off the streets without disrupting the daily flow of people and goods. Going forward, e-mobility is the clear, clean choice. That is why ABB is active across the entire e-mobility value chain, offering a complete range of solutions for the electrification of buses, commercial vehicles, trucks, autonomous vehicles, automobiles, ships and railways. We have rapidly become a world leader in fast charging solutions, which are increasingly in demand as urban areas shift away from fossil fuels.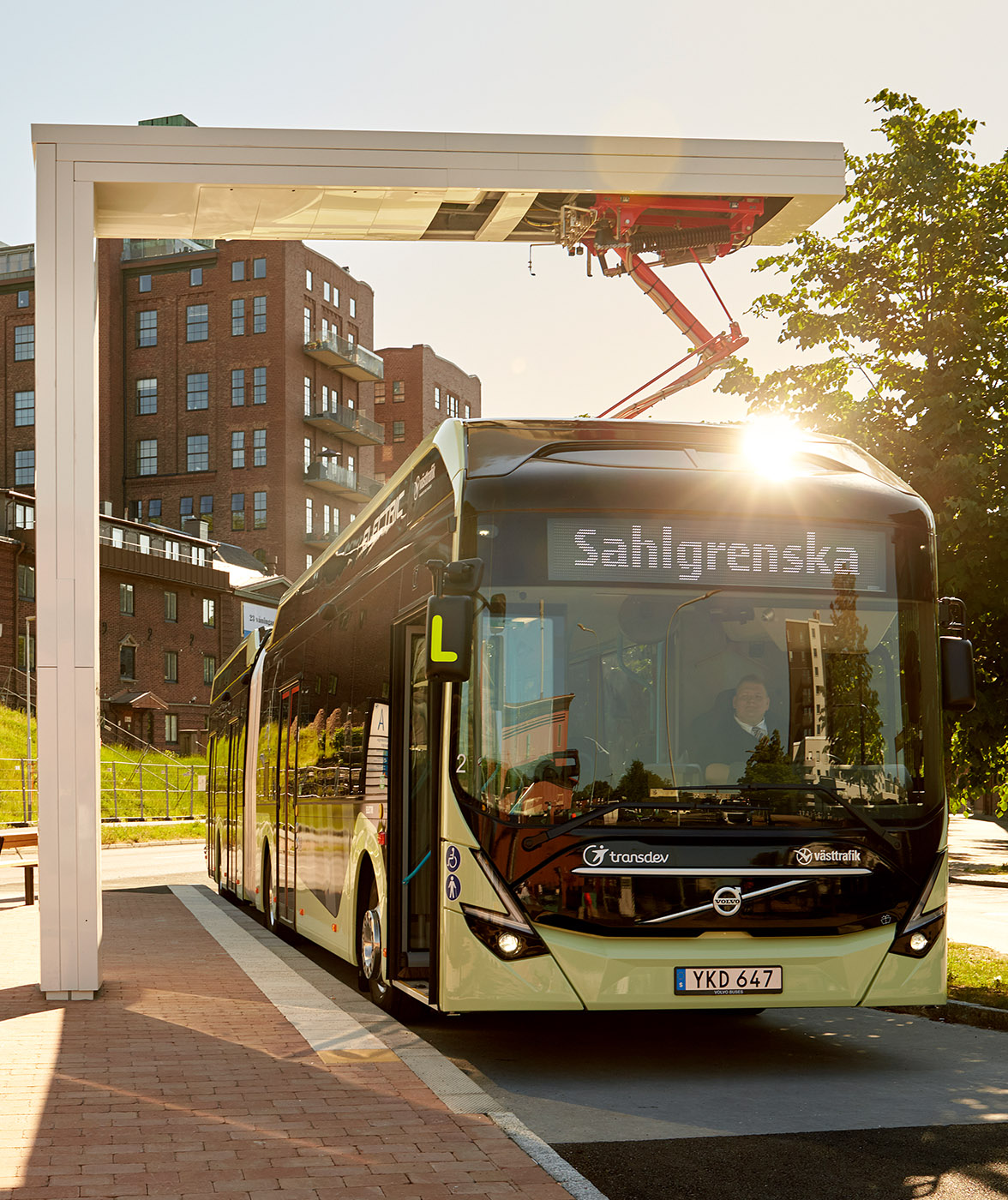 According to the International Energy Agency, the number of electric and plug-in hybrid electric cars on the road reached 5.6 million at the beginning of 2019 and is expected to rise to 125 million by 2030. ABB is supporting this trend in sustainable mobility by providing not only electric vehicle (EV) charging stations, but also critical EV charging network components, such as substations, energy storage systems and eco-friendly switchgear. These technologies are designed so that EV charging stations, once erected, will be both future-proof and scalable.
One of the EV solutions developed by ABB is the DC 50 kW Terra 54 fast-charging station, which provides charging on the go for the most common battery sizes within 30 to 45 minutes. The ABB Terra uses open standards to enable connectivity, remote monitoring and remote assistance functions via an ABB Ability™ solution, reliably connecting public EV charging stations to the power grid. Around 13,000 ABB fast chargers have now been sold in more than 80 countries, making ABB a global leader in DC fast-charging technologies.
ABB's Terra HP 350 kW next-generation fast chargers provide a more powerful solution, capable of adding 200 kilometers of range to an electric car in just eight minutes. ABB has already installed 200 of these units for Electrify America, the largest EV infrastructure project to date in the United States. In many other countries, including Germany, Switzerland and Iceland, ABB is the key technology supplier for sustainable mobility infrastructure.
Our first CO2-neutral and energy self-sufficient production site in Lüdenscheid, Germany is a blueprint for a sustainable future and has already attracted high attention from our customers worldwide, keen to join us on our Mission to Zero.

Tarak Mehta – President, ABB Electrification
ABB has also been selected as the main technology partner and supplier of fast-charging systems by IONITY, a consortium of major automakers that has opened 202 fast-charging stations across 18 European countries since 2018. Fastned, a Dutch startup that aims to create a European network of 1,000 fast-charging stations, also uses the Terra series of fast chargers, which run on the ABB Ability™ Connected Services Platform. This platform employs Microsoft Azure's cloud services to enhance uptime, scalability and speed of development, as well as to provide real-time remote support services.
Case study

Electric fast chargers in Gothenburg, Sweden

Reveal case study

The city of Gothenburg, Sweden, is committed to the development and testing of solutions for sustainable public transport. Electrifying line 60, one of the busiest bus lines in Gothenburg, together with lines 59 and 62, is the top priority. In 2018, almost 6.9 million trips were made on line 60, and another 780,000 trips on lines 59 and 62.

Electrifying a bus line is not just a matter of procuring e-buses. New charging infrastructure is required. That is why Gothenburg's public transport operator, GS Buss, reached out to ABB for a solution. Following an extensive review of the city's needs, GS Buss decided that the buses on line 60 should be energized by ABB's 300 kW high-power chargers.

The chargers offer a modular solution, based on OppCharge, and will enable Gothenburg's buses to be recharged in just three to six minutes at the depot in Kruthusgatan, with supplementary fast charging available at the ends of the line in Masthugget and Redbergsplatsen.

In line with the Swedish government's vision that Sweden should be climate-neutral by 2050, regional transport authority Västtrafik expects to have electrified all city traffic in Västra Götaland by 2030.

Close case study
For mass transit, ABB offers solutions for the electrification of buses. And for the electrification of railways, ABB supports sustainable mobility with power and automation technologies for customers ranging from train manufacturers to rail operators. We design, engineer and commission solutions to deliver safe, reliable and cost-effective rail freight and passenger transportation solutions. Our product offering includes traction transformers, motors and converters to move vehicles quickly and reliably. This includes leading integrated and collaborative digital solutions with ABB Ability™.
To further enhance our portfolio of EV charging solutions, ABB has invested some $10 million in a new e-mobility research and development facility in Delft, Netherlands, which opened mid-2019. The center focuses on EV charger interoperability and also incorporates large testing areas to accelerate the development of charging solutions for the rapidly growing electric bus segment.