Sustainable energy
ABB is committed to realizing the vision enshrined in Sustainable Development Goal 7 – ensuring access for all to affordable, reliable and sustainable energy.
Our Group provides much of the technology needed to make this goal a reality. One of our solutions is the microgrid – a small-scale electric grid that can run largely on renewables such as wind or solar, reducing or even eliminating the need for diesel generators in places that lack reliable grid connections. This technology is ideal for remote locations. We recently installed such a microgrid on Robben Island in South Africa, to power the museum and conference center located in the historic former prison of Nelson Mandela.
Case study

ABB enables access to electricity in Africa

Click here to reveal case study

In the Democratic Republic of Congo (DRC), eight out of 10 residents have no access to electricity at all, according to the World Bank. Transmission lines connect the larger cities, providing grid power, but dispersed rural populations are unable to tap into these lines to access electricity for their own use.

ABB has come up with an innovative solution that can tap into existing high-voltage power transmission lines and step down the voltage level to provide electricity to small communities living nearby.

We have installed micro-substations in seven rural farming villages in southern DRC, bringing affordable electricity to more than 5,000 people. The project was commissioned by the DRC's national electricity company, the Société nationale d'électricité (SNEL), and draws on funding from the European Investment Bank.

The micro-substations use ABB's station service voltage transformer (SSVT), which transforms the power tapped from the high-voltage line to low-voltage output for distribution to small communities. If there is an increase in demand for power, additional SSVTs can be installed within the same micro-substation. These offer an ideal solution for the rural electrification needs of small communities throughout the world that are located in close proximity to existing high-voltage lines.

Click here to close case study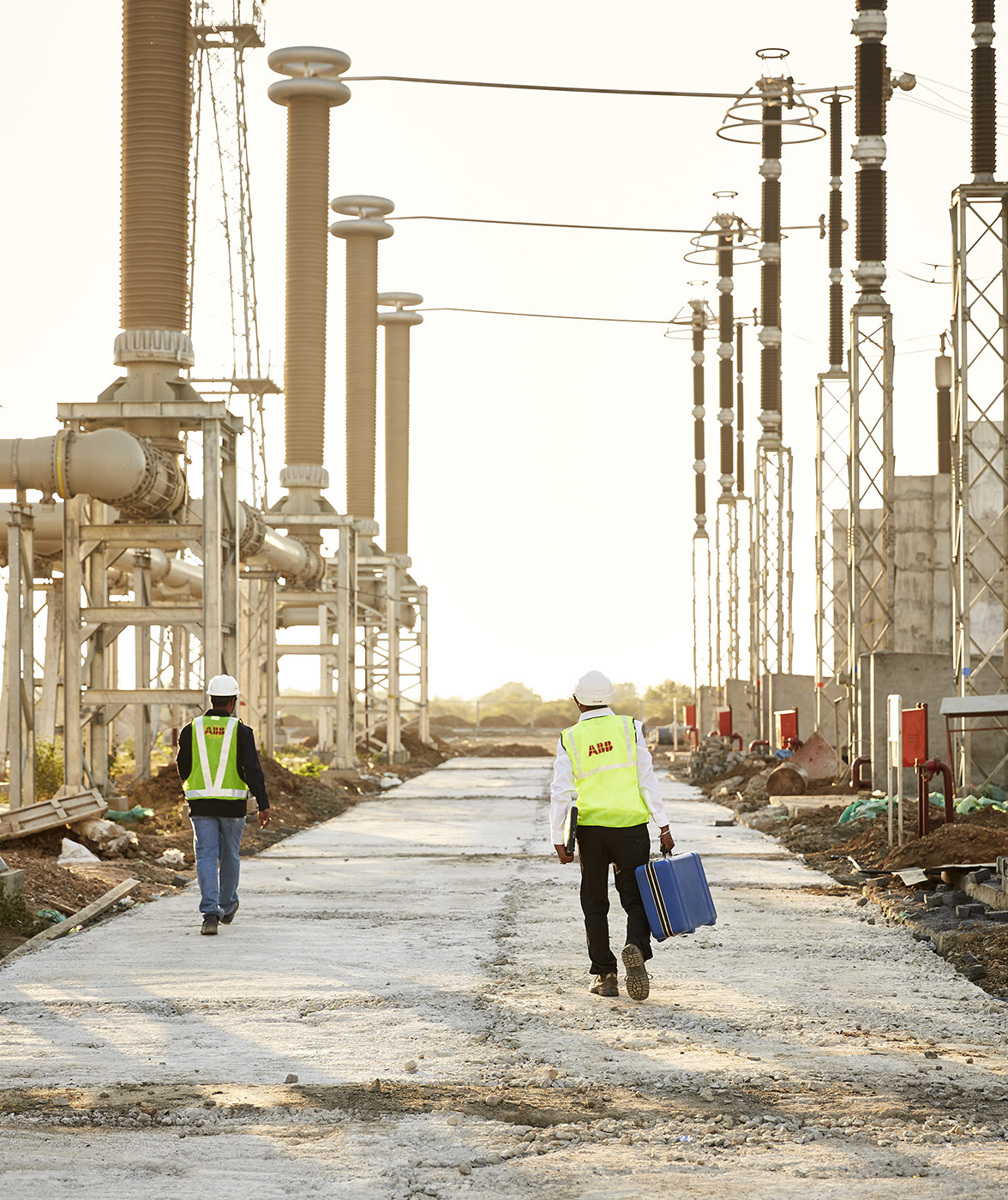 Another ABB technology that is playing an important role in integrating renewable energy into mainstream power grids is high-voltage direct current, or HVDC. By converting alternating current into direct current for transmission, then back to AC for consumption, we can transmit power with minimal losses over long distances. That makes it possible to connect remotely located energy sources to major consumption centers, like cities. HVDC systems are now delivering electricity generated by hydro, wind and solar plants to millions of consumers every day. Many of the best renewable generation sites are in remote locations – mountaintops, deserts and seas – so the electricity produced must cross vast distances to get to where it is needed. HVDC is the most reliable and efficient way to ensure that renewable energy reaches consumers.
ABB pioneered HVDC over 60 years ago and has continued to refine the technology, developing ultra-high-voltage direct current (UHVDC) and "HVDC Light." HVDC plays an important part in a stronger, smarter and greener grid, and ABB is one of the world's foremost providers of HVDC systems.
Sustainable engineering from ABB can also be found in digital substations – a key component in next-generation grids, because they enable smarter and greener power systems. The digital substation is an innovative concept that uses fiber-optic current sensors to eliminate much of the copper cabling used in older facilities and connects the latest electrical devices to digital sensors and cloud computing. These cutting-edge substations send real-time operating data to the utilities that run them; ABB Ability enables the operator to use that data to make better operational decisions and optimize maintenance scheduling. The end results include lower maintenance costs, smaller and more efficient facilities, reduced environmental impacts and improved worker safety.
These are just a few of the technologies ABB has developed to use energy more responsibly and to enable the ongoing transition to renewables. Others include a wide range of solar inverter applications and home automation systems, such as Mylos free@home, which makes it possible to build truly smart homes. Moreover, our company is working to ensure that the efficient new grid systems now being installed around the world are built from greener components. Our latest single-phase transformers use biodegradable esters as insulating fluids in place of conventional petroleum derivatives. The use of ester fluids at higher voltage levels has resulted in a safer and greener high-performance transformer solution. ABB's world-first 420 kilovolt single-phase transformers offer an environmentally friendly, energy-efficient and reliable high-voltage alternative for a sustainable future.