Integrity

Committed to the highest standards of business integrity

Target: Applying a Code of Conduct-based approach to projects and counterparties

ABB's integrity program forms part of the backbone of our company. We are committed to continuously enhancing our integrity program and our company culture. Over the past year, we invested in new measures to strengthen accountability for integrity, increase transparency, and expand our risk detection and prevention capabilities.
2021 integrity initiatives
Innovations in relationship risk management
In 2021, we enhanced our assessment and monitoring of the reputational and legal risks presented by third parties. Specifically, we began to incorporate smart, front-end risk and reputation assessments into our processes and to invest in continuous, risk-based monitoring over the lifecycle of our third-party relationships.
We assessed and categorized our global sales channels and designed new onboarding and lifecycle monitoring processes to mitigate fraud, corruption and associated human rights and reputational risks in both our sales channel and supplier relationships. Once these improvements have been fully implemented, third parties will be ranked according to risk. This will provide us with better insights at the time of selection, enable risk-based monitoring over the course of a relationship, and deliver actionable intelligence on our highest-risk third-party relationships.
In parallel, we developed new learning and guidance materials for the ABB employees who manage third-party relationships to help them meaningfully monitor and act on potential integrity warning signals. We also revised our standard terms and conditions for sales channel and supplier relationships to clarify our performance expectations and risk-management practices.
Strengthening our team
In 2021, we embedded senior integrity leaders within each of ABB's four Business Areas. We also added staff to support ABB's evolving legal and integrity needs. These professionals have expertise in the areas of antibribery/anticorruption, global trade, human rights, data privacy, investigations, forensics and analytics, and third-party management.
New approaches to employee learning
In 2021, we began to shift our approach to employee integrity learning from "pushing" content to "pulling" interest towards high-value content and innovative messaging. This new approach aims to keep integrity awareness high and has delivered measurable results. So far 30 percent of all ABB employees with regular email access have voluntarily engaged with our new content. We are continuing to develop this strategy of self-driven learning supported by bespoke content.
Bolstering integrity through transparency and accountability at ABB
Transparency is central to the continuous enhancements we make to ABB's integrity program. In 2021, we implemented the following measures:
We standardized a global conflict-of-interest disclosure tool to make our fair-play expectations easier to understand.
We shared real-life integrity success stories and lessons learned, along with our root-cause analyses, with all ABB employees through our "Straight Talk" online platform for risk awareness and prevention. Read more about this initiative in the case study below.
We harmonized our approach to accountability in connection with non-compliant incidents in the areas of integrity, health, safety and internal controls with the goal of ensuring a fair and coherent process.
We updated our approach to testing and measuring the effectiveness of our integrity initiatives. For example, our new Integrity Leaderboard KPI assesses indicators of trust, engagement and transparency across our Business Areas, Divisions and the Group as a whole. The KPIs are incorporated into monthly business reviews and are made available to all employees.
As part of our new approaches to both employee learning and accountability, we also publish quarterly assessments of our integrity communications' effectiveness and have created real-time dashboards to help managers leverage the metrics and insights provided by our investigations' portfolio, including activity on our Business Ethics Helpline.
Stronger privacy and data protection
Due to new and changing regulations around the world, compliance with privacy and data protection rules is becoming more complicated for global companies. Today, compliance requires both global standardization and adaptation to local requirements. We are well positioned to meet these challenges with our mature privacy and data protection program, which we continued to strengthen in 2021. Each of our Business Areas and corporate functions has a designated privacy lead person, who is responsible for implementing and maintaining our privacy and data protection standards and controls within the Business Areas, Divisions and functions. At country level, there are designated privacy lead persons supporting the Business Areas, Divisions and functions to meet their responsibilities. All internal and external stakeholders continue to be supported by ABB's global privacy team. We apply the same strict privacy and data protection standards and controls globally across all our locations and comply with local requirements where these are different from or stricter than our global standards. ABB's global privacy and data protection standards and practices are described in full on the ABB Data Privacy Portal.
Encouraging whistleblowers
ABB's speak-up culture is a vital feature of the culture of integrity and transparency that we constantly seek to strengthen. It is critical to the smooth functioning of our enterprise as a whole. Employees are encouraged to report their integrity and compliance concerns and to seek further guidance from their manager, Human Resources, any member of the Legal & Integrity function or ABB's Business Ethics Helpline. External stakeholders also are encouraged to report any concerns via the Helpline. We vet and address reported concerns in a timely manner and enforce a rigorous non-retaliation policy. All reports that merit an investigation are pursued, and we apply a systematic approach to determining and executing disciplinary actions in response to all substantiated integrity violations. ABB cooperates fully with law enforcement agencies in these matters where applicable.
Case study

Peer-to-peer platform bolsters integrity culture at ABB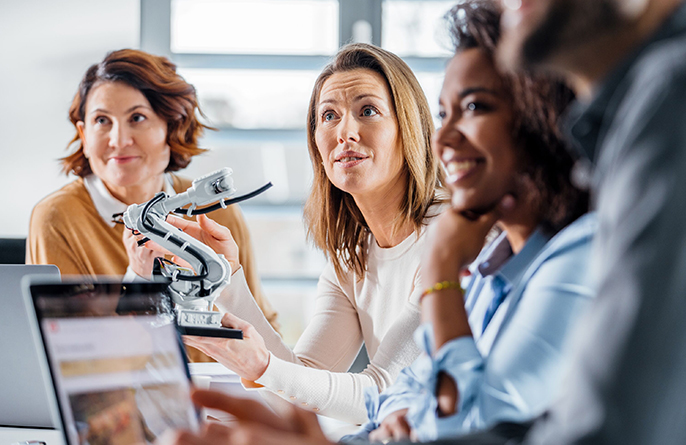 Reveal case study