Responsible sourcing

Raising the bar for our suppliers

Target: At least 80 percent of our supply spend in focus countries will be covered by our sustainable supply base management approach (SSBM), which includes surveillance of environmental, social and governance performance

We work closely with suppliers to ensure ABB's sustainability expectations, ambitions and targets are understood and met. As our suppliers are an extension of ABB, they are integral to our sustainable growth. To clarify our expectations, we published the ABB Supplier Code of Conduct (SCoC), which is available in multiple languages. This policy document reflects the 10 principles of the UN Global Compact and the essence of the ABB Code of Conduct.

Our approach is underpinned by ABB's supplier selection, qualification and performance improvement processes. Starting in 2010, our successful Supplier Sustainability Development Program (SSDP) was the focus of our efforts to ensure compliance with the SCoC and to support improvement in the sustainability performance of our suppliers. The program was structured around a combination of training, on-site assessments and monitoring of performance improvement plans. Suppliers were selected to participate in the program according to a risk matrix, which considered the criticality of the supplier, country risk, commodity risk, operational characteristics and spend volume.

In 2021, we replaced the SSDP with an expanded approach that we have designated Sustainable Supply Base Management (SSBM). Under the new SSBM, we aim to address sustainability topics and performance at each stage of supplier lifecycle management, as part of our "beyond audit" approach.

ABB's 2030 sustainability strategy includes an ambitious target to cover 80 percent of our supply spending in focus countries with SSBM by 2030. We have also introduced a medium-term target to cover 80 percent of our high-risk supply spending in focus countries by 2025.

To assess the effectiveness of our approach, we have set a goal of closing 75 percent or more identified risks from supplier assessments by 2025. Closure timelines for identified risks vary from a month to a year, depending on the severity of the case. Some complex issues may require a joint effort to resolve, under a longer timeline. Due to the ongoing identification of new risks and the time required to mitigate them, the closure rate of identified risks can never reach 100 percent.
By the end of 2021, 27 percent of high-risk supply spending in focus countries was covered by our SSBM system, and 82 percent of identified risks were closed. Plans are in place to ensure that we achieve our medium-term target by 2025.
In 2021, we assessed 81 suppliers, identifying 267 risks and mitigating 307 risks. In other activities related to responsible sourcing, we trained 126 ABB employees and 45 suppliers in the course of the year. ABB terminated relationships with 13 suppliers due to unsatisfactory progress on their corrective action plans.
To strengthen ABB's monitoring and evaluation capacity, in 2021, we held two courses of ABB's lead assessor qualification training program in India and China. The program combines classroom sessions with field experience. All program graduates are prepared to perform independent SSBM assessments and follow-up audits. During the year, 23 employees from India, China, Brazil and Mexico were either qualified or requalified to be ABB lead assessors.
While implementing the program changes outlined above, we also took the opportunity to review individual elements of our approach as we transitioned from SSDP to SSBM. For example, we made improvements in our SSBM assessment checklist to sharpen our focus on sub-supplier (beyond tier 1) management and certain workplace safety topics. Related documents, such as implementation guides for our suppliers in focus countries and training materials for suppliers and assessors, were also revised accordingly.
With the help of internal and external experts, we also revisited the evaluation of commodity risks - the health, safety and environmental risks associated with the use of commodities in certain manufacturing processes. This commodity risk and geographical risk are used to prioritize the suppliers selected for on-site assessment as part of SSBM.
In response to the COVID-19 pandemic, we further developed the capacity to perform either on-site or remote SSBM assessments, according to local circumstances.
Case study

Identification of commodity risk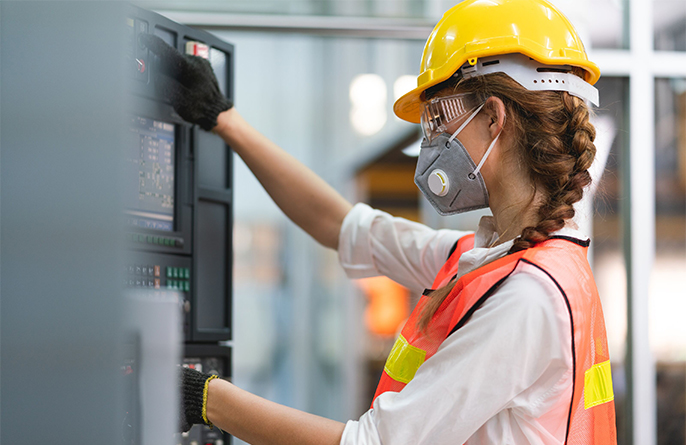 Reveal case study
In 2021, we analyzed the results from all of the supplier assessments performed by ABB over the past seven years to identify the 10 most common findings. We will create targeted workshops on selected topics for our suppliers to help them address these challenges.
We have also initiated a review of our SCoC to clarify our commitments in certain key areas and to address changes in the regulatory environment since the last revision. We expect to complete this review and to develop a comprehensive plan for rolling out these clarifications and adjustments in the course of 2022.
Conflict minerals
We continue our work to understand and limit ABB's exposure to conflict minerals, as defined by section 1502 of the Dodd-Frank Wall Street Reform and Consumer Protection Act. We also request supplier information on tin, tungsten, tantalum and gold (which make up the most prominent conflict minerals, sometimes referred to as 3TG) imported from conflict-affected and high-risk areas (CAHRAs), as defined under EU Regulation 2017/821. We filed ABB's annual Conflict Minerals Report with the US Securities and Exchange Commission for the eighth consecutive year, summarizing ABB's approach to minerals and the status of our programs.
ABB's approach to the responsible sourcing of minerals is underpinned by the ABB Policy on Conflict Minerals and continued collaboration with the Responsible Minerals Initiative (RMI), which works to encourage smelters and refiners to undergo audits aligned with OECD guidelines.
Under ABB's own programs, we cooperate with our suppliers on an ongoing basis. Together we are working towards ensuring that our products avoid the use of minerals from mines that support or fund conflict within the Democratic Republic of Congo or adjoining countries and CAHRAs.
Case study

Sustainably sourcing artisanal gold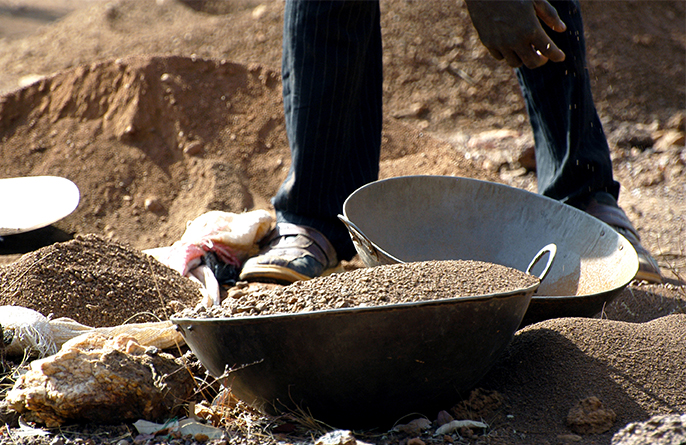 Reveal case study
ABB continues to lead the RMI Asia Smelter Engagement Team and to work closely with smelters and refiners who need assistance with the Responsible Minerals Assurance Process, which is the RMI audit program aligned with OECD requirements.
As part of our strategic approach to managing risks associated with the use of critical materials, we are expanding ABB's conflict minerals program. Beginning in 2022, we will release our first Cobalt Reporting Template for our stakeholders, with the first reports to cover activities during 2021. As with the development of our 3TG process, ABB will carry out due diligence on our cobalt supply chain and work closely with our suppliers to source minerals responsibly.