Integrity
As part of ABB's sustainability strategy 2030, we set two targets specifically addressing our integrity and transparency objectives. In 2022, we revised these targets to better reflect our approach to how we aim to embed integrity into ABB's operating model. The targets now reflect how we aim to manage our third-party relationships, how we aim to support integrity learning and upskilling, how we aim to use analytical insights to identify risks and adapt our strategy, and how we publicly report in line with global sustainability standards.
Our integrity & transparency targets for 2030 are:
Target 2030: Implement a global framework for assessing and mitigating third-party integrity risks through risk-based due diligence and life cycle monitoring
Target 2030: Implement a global integrity program underpinned by accountability for integrity and an adaptive risk management strategy gained from insights through targeted learnings, transparent reporting and monitoring
Our progress against these targets is also reported in our ABB Integrated Report 2022. We implemented various integrity initiatives during the year that significantly contributed to our targets. Collectively, these initiatives strengthened our accountability for integrity, increased our transparency, and expanded our bribery and corruption risk-detection and mitigation capabilities. We plan to build on these initiatives in 2023, leveraging them to drive us forward towards ABB's integrity and transparency targets for 2030.
2022 integrity enhancements
ABB's integrity program is the product of over 20 years of development. In recent years it has been significantly transformed. Spanning our operations, it always strives to reflect best practices where we operate. At the core of our ongoing transformation we are delivering processes, tools and learnings, aimed to remediate issues identified over time. The specific enhancements we made in 2022 are part of this transformation, with a particular focus on our Anti-Bribery and Anti-Corruption (ABAC) program and workplace culture and behaviors.
Rollout of new Third Party Management process
In 2022, we enhanced our "Third Party Management" (TPM) program. Focusing initially on our suppliers (buy-side) and sales channels (sell-side), these enhancements bolster our risk-based approach to selecting third parties and aim to enable more effective oversight and monitoring of their activities and overall performance. During the course of 2023, we will extend the application of the enhanced TPM program and processes to our existing third-party population, aiming to enhance management of third-party risk.
Rollout of Anti-Bribery & Anti-Corruption program
We launched an enhanced upskilling program focused on Anti-Bribery and Anti-Corruption (ABAC) competencies highlighting the crucial role that our employees play in ensuring ABB's sustainable and competitive future. For now, the program targets employees that face the highest ABAC risks in their day-to-day functions – namely those in gatekeeper functions or in customer and government-facing positions. This program is ongoing throughout 2023.
Integrity Gateway 2.0
We released version 2.0 of our Integrity Gateway, consolidating into one tool the recording and management of employee conflict of interest disclosures and requests for gifts, travel, hospitality, donations and sponsorships. The tool is governed by approval workflows which, depending on the request made, trigger approval from line managers, Human Resources, Legal & Integrity, and Communications colleagues. This aims to bring a global approach to these requests and is a step forward in how we monitor and manage certain ABAC risks in our business.
Monthly promotion of Straight Talk case studies
We stepped up our efforts to expand employee engagement with Straight Talk, our internal platform for sharing real-life integrity successes and failures at ABB. Through one-pagers and accompanying internal communications, we share integrity lessons learned from our colleagues to drive a speak-up culture through regular messaging on our reporting channels. Key leaders are expected to lead by setting the tone from the top. To this end, they are provided with comprehensive data on our investigation portfolio for use in their team business meetings. This transparent initiative has been well received across ABB and continues to serve as a key method of communicating integrity learnings.
Case study

Leadership in legal sustainability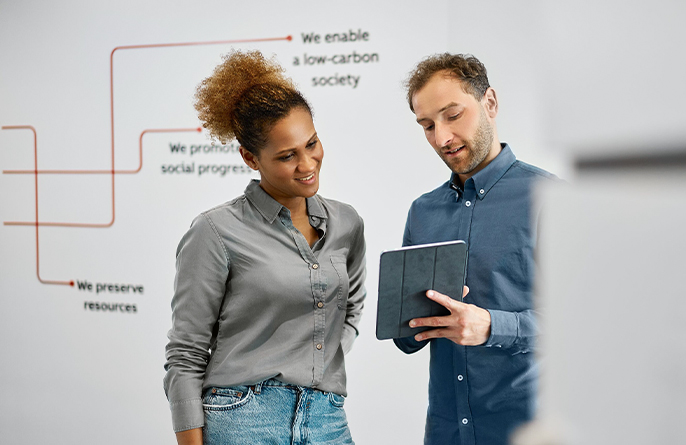 Reveal case study
Global settlements
Kusile statement
Based on findings during an internal investigation, the Company self-reported to the SEC and the DoJ, in the United States, to the Special Investigating Unit (SIU) and the National Prosecuting Authority (NPA) in South Africa as well as to various authorities in other countries potential suspect payments and other compliance concerns in connection with some of the Company's dealings with Eskom and related persons. Many of those parties have expressed an interest in, or commenced an investigation into, these matters and the Company is cooperating fully with them. The Company paid $104 million to Eskom in December 2020 as part of a full and final settlement with Eskom and the Special Investigating Unit relating to improper payments and other compliance issues associated with the Controls and Instrumentation Contract, and its Variation Orders for Units 1 and 2 at Kusile. The Company made a provision of approximately $325 million which was recorded in Other income (expense), net, during the third quarter of 2022. In December 2022, the Company settled with the SEC and DOJ as well as the authorities in South Africa and Switzerland. The matter is still pending with the authorities in Germany, but the Company does not believe that it will need to record any additional provisions for this matter.
Looking forward, we will continue to serve all customers and markets where we operate today, including South Africa. We are firmly committed to fulfilling our contractual obligations on the Kusile project to achieve successful and sustainable project completion, and we stand with South Africa as a key partner in the country's power utility sector. Our project objective remains unchanged – to enable a stable electric grid for the people of South Africa.