Community engagement
Target 2030: Provide impactful support for community-building initiatives around the world
ABB has a longstanding tradition of active engagement in the communities in which its employees and customers live and work. As part of our 2030 sustainability strategy, we are reinforcing that engagement by providing impactful support for community-building initiatives.
ABB's approach to community engagement combines strategic corporate partnerships with country-level projects to address local needs. We aim to assist the most vulnerable and to support community-building in education, diversity and inclusion, community healthcare, and poverty and disaster relief.
Our largest program is a corporate-level agreement with the International Committee of the Red Cross (ICRC), which provides humanitarian protection and assistance to victims of armed conflict and other forms of violence. During 2022, as a special initiative to support the humanitarian effort in Ukraine, we contributed more than CHF 2.2 million in employee and Group funds to the ICRC response. In addition, ABB employees in several countries took it upon themselves to travel to the borders of Ukraine to transport refugees from the country to safe locations, while others donated such essentials as food and warm clothing.
Education has long been a focus of ABB's community engagement activities. Since 2007, ABB has funded the ABB Jürgen Dormann Foundation for Engineering Education, which helps financially disadvantaged engineering students in 12 countries. In 2022, the foundation supported 91 students at 13 universities.
Case study

Preparing people to thrive in an age of robotics and automation
Reveal case study
We also continued our local commitments to promote STEM education and careers, particularly for girls and women. ABB's scholarship and mentoring programs continued in China, Estonia, Hungary, India, Italy, Sweden and the United States, among other countries. Many of these academic programs include modules that provide students with practical experience in real industrial environments and assist them in developing soft skills to enhance their employability upon graduation. In 2022, ABB marked 20 years of support for Junior Achievement, a non-profit organization that runs entrepreneurship and job preparation programs in Italy. In 2022, 50 ABB employees served as "dream coaches" in this program, providing their knowledge and expertise to over 870 students.
Case study

Smart grid lab in Vietnam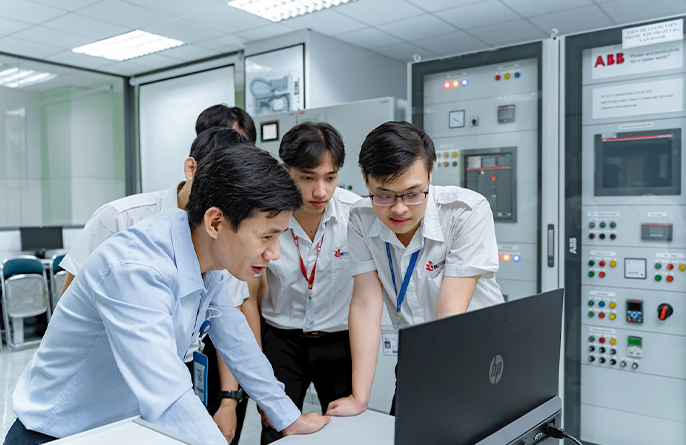 Reveal case study
In 2022, we added a range of major new initiatives to the large number of educational, technical, entrepreneurial and hands-on training programs that ABB runs for young people. These initiatives included support for the establishment of the first university Smart Grid Lab in Vietnam, our sponsorship of the Science Olympiad in the United States for K-12 students, and the inauguration of our expanded training center in Berlin.
Across the world, we also made donations or provided services and other forms of support to vulnerable people and those affected by natural disasters, such as the hurricanes, tornadoes and floods that occurred in the United States and Pakistan. In the United States, ABB employees were able to donate to help their colleagues in need by making tax-deductible gifts to the ABB Employee Relief Fund. The ABB Foundation, funded by ABB in the United States, provides a large portion of the relief fund and covers program costs and fees. Cash grants are available to U.S.-based full- and part-time employees or temporary contract workers who experience a catastrophic disaster. The fund is administered by E4E Relief, a leading operator of relief funds for large companies.
ABB's employees were active over the past year, providing assistance to those suffering from food insecurity. Through donations and volunteer activities, ABB employees supported food banks and other programs in Australia, Canada, Hungary, the United Arab Emirates and the United States.
Over the course of 2022, we were unable to initiate the research and consultations that had been planned to develop our community engagement strategy further. We will kick off this process in 2023, with a view to developing a harmonized approach to volunteer activities and community programs.
Case study

Learning Factory Industry 4.0 at ABB in Berlin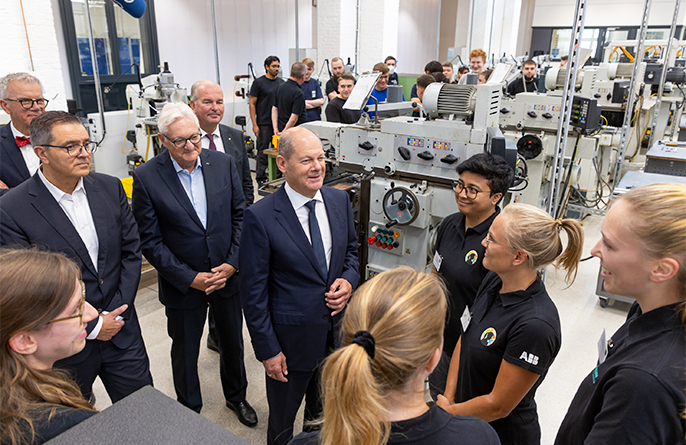 Reveal case study